How You Can Help
Thanks to your tax deductible donations, and the dedicated efforts of our wonderful volunteers and staff, the Humane Society of San Bernardino Valley is able to help thousands of animals and people. On average, each year we are able to accomplish the following:
Over
8000
cats and dogs are spayed or neutered at our low-cost hospital to prevent pet over-population.
Over
60,000
vaccinations are given to protect animals from disease.
Over
5000
medical exams are given to animals who otherwise might not have received care.
Over
1500
complaints of animal abuse and neglect are investigated.
Approximately 500–600 animals have been confiscated by our Cruelty Investigation Department from unsafe environments to protect them from neglect or abuse.
Thousands of children in San Bernardino elementary schools (grades K–6) are reached with our message of compassion for all living creatures through our humane education program. We believe this early instruction is integral to helping them become more responsible companions to their pets and teaches them to be advocates for kindness in their communities.
More than 85,000 animals are seen at the Humane Society of San Bernardino Valley.
There are a variety of ways you can support the HSSBV!
Financial Donations
Donate Today to help animals!
Join the Make A Difference Club!
The Make a Difference Club was created for the purpose of giving our donors the opportunity to make monthly contributions to help fund our Humane Education and Cruelty Investigation programs, neither of which are income-producing and yet are so vital to the welfare of animals in our community, now and for years to come!
Create A Lasting Legacy
Room Designations, Bricks & Tiles
Honor a relative, friend or pet with a special memorial tile or brick .
Bequests & Estate Planning
Your generosity can continue in an extraordinary way by remembering the Humane Society of San Bernardino Valley in your will. A charitable bequest in your will or revocable living trust can help ensure a valuable estate tax deduction. You can choose to give cash, personal or real estate property, or a portion of the estate's value. Please consult your financial advisor with questions and for further information. For suggested verbiage and HSSBV information Click Here.
Wish List Items
Donating to the HSSBV can be as simple as bringing us the newspaper after you read it! There are several "Wish List" items we need all year to help our animal friends!
Dog houses, new or used in good condition
Laube pet hair clippers & blades (please contact us for blade size details)
Oster "A-5" hair clippers
Dog sweaters (in a variety of sizes, but especially small)
Dog and cat food (dry and wet)
Puppy and kitten food (dry and wet)
Dog and cat beds
Dog and cat toys
Large litter boxes
Kitty litter (scoopable)
Tide® laundry detergent (unscented, high efficiency)
Blankets and towels (new and used)
Craft felt and poster board
Colored and plain white paper
Newspaper
Office supplies
Pillow cases
Critter Camp Supplies
3oz cups
small & large paper plates
plastic forks and spoons
Napkins
Hand sanitizer
$50 donations to sponsor a child's participation in Camp!
Event Sponsorship
The HSSBV hosts a variety of fundraising events during the year with a popular following. Sponsoring these events not only helps animals and is tax deductible, it gets your business name/products in front of hundreds of members of the community!
For all donation opportunities and questions please contact Jill Henderson at 909-386-1400 ext. 224 or jhenderson@hssbv.org.
Other Ways to Help
The HSSBV can also accept donations of stocks, real estate, pledges and workplace giving through the United Way.
You can also help support the HSSBV while you shopping; search for "Humane Society San Bernardino Valley". Please see these partners:
Amazon Smile 
Orange Blossom Florist 
Amazon Wish List
Good Search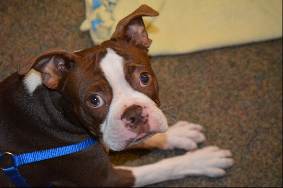 The Humane Society of San Bernardino Valley (HSSBV) is a private 501(c)3 non-profit organization.  We are not part of, and do not receive funding from, any city, county or state government agencies.  We are not part of the Humane Society of the United States, ASPCA or any other national or local animal organizations. Please read the qualifications and details of each assistance program carefully.
When calling the HSSBV to sign up for these programs, please keep in mind our call volume is very high, especially on Mondays, Fridays and after the launch of new discount or voucher programs. You are welcome to make an appointment over the phone, or by coming to the clinic in person. If you reach our voicemail, please leave one voicemail and we will return your call at the first opportunity.
If you are unable to leave a voicemail, please try again later. Leaving a voicemail does NOT enroll you in any of our programs.