Volunteer
The HSSBV is always looking for dedicated, hardworking volunteers who love animals! We offer a variety of volunteer experiences and would love to have you join our team.
We welcome members of the community with a desire to help animals and to give back. This includes: students working towards becoming a Vet Assistant, Registered Veterinary Technician, or Veterinarian; students completing their internship or externship hours; those in need of community service hours for minor traffic violations; those in need of community service hours for general schooling or extra credit; those who are looking for well-rounded resume building experience; and those just looking to donate their time!
Please keep in mind the following before applying:
You must be 18 years of age or older to volunteer at the HSSBV
The HSSBV is not a shelter. Therefore, we do not offer positions feeding, walking or socializing animals. We do, however, offer a variety of other volunteer experiences working with animals.
HSSBV volunteer opportunities happen between the hours of 8:00 am – 5:00 pm Monday – Friday, as well as 7:45 am – 1:00 pm on Saturdays.
Limited hour experiences, such as those with traffic tickets or volunteering for a school requirement, will be considered when there are 50 hours or more. These volunteers may be limited to volunteering in the Administration Office or Laundry due to training restraints. *Please note on the application if you require hours, if you need an intern/externship, how many hours, and when they need to be completed by.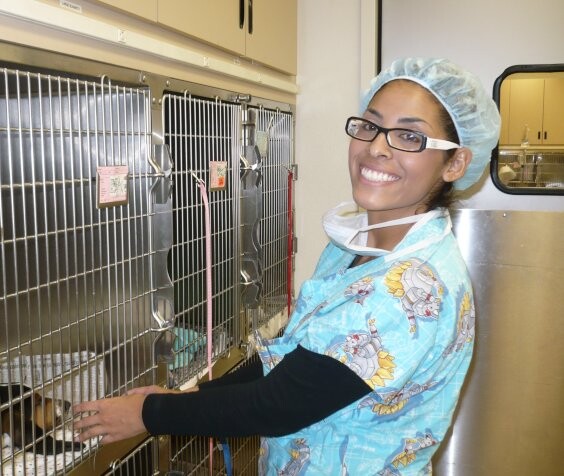 What Will YOU Choose?
Volunteers at the HSSBV make their own schedule and choose which area they would like to work. This brief overview will help you choose which areas you are interested in when applying. A more thorough overview is given at orientation and volunteers make their decision at that time. Once volunteer assignments have started they are subject to our area managers' training and approval.
Recovery Volunteers
Available Monday – Friday from 9:00 am – 5:00 pm
Recovery volunteers will support surgical staff in observing animals as they awaken from spay/neuter surgery, and will make sure the animals are comfortable. This role involves a great deal of standing, bending, squatting, contact with animals, and lifting heavy animals and objects. Volunteers must be able to handle stress and easily communicate with staff. While most popular with those working towards goals of a career working with animals, this area is open to all volunteers who are interested. Training happens as you volunteer.
Reception Volunteers
Available Monday – Friday from 8:00 am – 5:00 pm, Saturday from 7:45 am – 1:00 pm
Reception volunteers work alongside our reception staff, checking in clients and patients, collecting payments, triaging patients and scheduling future appointments. Strong computer skills are needed, as learning our computer program is part of training.
Volunteers must be friendly and outgoing and have a passion for animals.
Administration/Call Center Volunteers
Available Monday – Friday from 8:30 am – 4:00 pm
Admin Volunteers assist with appointment reminder calls, mailing, filing, and other office duties.
Laundry Volunteers
Available Monday – Friday from 8:00 am – 5:00 pm, Saturday from 7:45 am – 1:00 pm
Volunteers needed to oversee the on-site washing and drying of a large quantity of blankets and towels which are used to help our animal patients be comfortable and warm while they await and recover from spay/neuter surgery. Laundry volunteers will fold and put away items, keep loads progressing, and ensure area is kept clean and in order.
The application review process usually takes 1–2 weeks. If you are accepted into the program, you will receive an email inviting you to orientation. Most communication is through email so be sure to add "hssbv.org" to your safe-sender list!
If you have any questions at any time, please contact Jill Henderson at 909-386-1400 ext 224 or jhenderson@hssbv.org. If you are applying to complete your internship or externship hours please do not fill out this application. Contact Vanessa at 909-386-1400 ext 248 or vfreire@hssbv.org.