Upcoming Events
***************************************************************************************************** 

Golden Paws 50th Anniversary
Humane Society of San Bernardo Valley

Saturday, September 25, 2021
Tickets are NO LONGER for sale. If you have already purchased your "tickets" please continue reading.

We are looking forward to celebrating with you at The DoubleTree by Hilton Hotel (285 East Hospitality Lane, San Bernardino) this Saturday, September 25th. The event will begin at 5:00 pm with an outdoor reception, followed by dinner, presentation, live auction, dancing and raffles (please keep in mind, you must be present during the drawing in order to win raffles!). Dress is semi-formal. 
There are no physical tickets to the event.  Your name and meal choice have been saved with your reservation and you will just need to check in at the outdoor courtyard entrance when you arrive.  Please note, we are not able to accommodate ticket sales at the door for guests who have not RSVP'd. 
This event is semi-formal and we are asking that guests who are unvaccinated wear a mask while in attendance.  However, it is not necessary to bring vaccination documentation with you.

 If you have any questions or need any additional information, please call (909) 386-1400 ext. 224 
**********************************************************************************************************
Blessing of the Animals
Monday, October 4th
Doors open at 5:30pm, Service is promptly at 5:45pm 

Bring your family and leash-trained or kenneled pet to a service led by Pastor Woody Hall. Animals of every kind are invited to this special ceremony. 
 This brief service will feature prayer, readings, and music. Prayer will also be offered for the families of pets who have passed away, as well as all living animals. By request, and at the end of the service, a blessing will be offered for each individual pet that attends.  This event is free to attend . Drinking water for pets will be available.

 ********************************************************************************************************** 

Paint Your Pet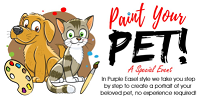 Saturday, February 26th at 5:00pm
Registration for this event ends February 22 at 8pm. 
Please visit the PURPLE EASEL to register